Fall 2014
State of the College - Video
View more videos on the UGAAgandEnvironment YouTube channel.
Information from Dean Angle
Collaborate Session
The latest discussion session with Dean Angle was held on
Tuesday, August 26
.
Dr. Arkin retires — Many of you know by now that Gerald Arkin, Assistant Dean for the Griffin Campus, has announced that he will retire at the end of September. Dr. Arkin has been in this position for 27 years and he has had a profound impact on the campus and college. We will be celebrating his career over the next two months.
We will not have a new Assistant Dean on board by the time he leaves. Until he is replaced, I have asked Dr. Kris Braman to serve as the interim Assistant Dean. She has agreed and I am grateful for her service to the college. She will begin on October 1.
We will also use this time to assess potential enhancements or improvements. I have received significant advice over the past week. We are working to formalize input and to assure that every opinion is heard and considered.
View photos from Arkin's Retirement Reception on Flickr.
Web Effort Review — As many of you know, much of the input to our strategic plan dealt with improving internal and external communication. As a part of that, it is crucial that our web presence effectively communicate to the right audiences. I believe we have the best chance of accomplishing this if web development becomes a collaborative effort between CAES departments, rather than the responsibility of any one section. For that reason, I am charging a Web Overview Committee to chart a course for CAES web efforts.
It is my intent that we deliver consistent messages yet allow our different focus areas to showcase their individual strengths, while keeping in mind our primary concern will always be the prospective student. Our college web presence must be interesting and useful to visitors, but it must also be flexible, adaptive and supportable to internal users. We must strive to strike a balance between standardization and flexibility, and I will look to this committee to provide guidance in that area.
To lead this effort I am asking Angela Rowell, Director of Communications and Creative Services, to chair the committee. I would also like for Dr. Jean Bertrand, Assistant Dean for Academic Affairs, and Brian Watson, Director of Office of Information Technology, to serve on the committee. The success of the overall committee, however, will depend on participation from units across the college, as it is critical to consider perspectives from many points and to build on diverse talents. For that reason I am asking departments, activities and units to identify interested employees to serve on the committee, and to send the names of those employees to Angela at arowell@uga.edu.
This is a long-range effort and is not intended to delay or cancel shorter-range web projects that you might be undertaking. If you think an ongoing project might conflict with the committee's overall purpose, please contact Angela directly.
Associate Dean for Extension Named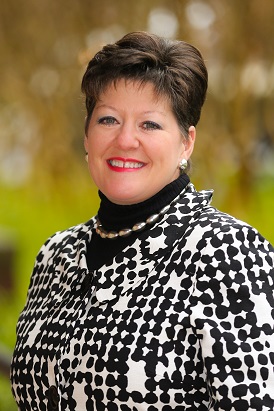 Dr. Laura Perry Johnson will be the college's new Associate Dean for Extension beginning January 1, 2015. Thank you to Dean Joe Broder for chairing the search committee and to each of committee members who gave so much of their time to help find the very best person to assume this important role in the college. Laura has been with the college for more than 20 years serving in various roles throughout the Extension organization, so she is well prepared for this new challenge.
News Release: Perry Johnson to head UGA Extension
D.W. Brooks Lecture and Awards
The D.W. Brooks Lecture was held Tuesday, Nov. 4, 2014, at 11 a.m., preceded by a reception at 10 a.m. in the Georgia Center for Continuing Education. The speaker this year was Ambassador Kenneth Quinn, president of The World Food Prize Foundation. Visit the D.W. Brooks Lecture and Awards website.
CAES Faculty and Staff Awards
Flanders named Outstanding Academic Advisor
Dr. Frank B. Flanders is an assistant professor in the Department of Agricultural Leadership, Education and Communication at the University of Georgia. He serves as the undergraduate coordinator for agricultural education and teaches graduate and undergraduate courses, preparing secondary agricultural education teachers. His research interests include the improvement of teaching and learning at the secondary level and historical research. He has presented numerous papers and workshops at state, regional and national conferences. Flanders is the author of two textbooks used across the United States. His book, "Modern Livestock and Poultry Production," is the recommended reference for the National FFA Livestock Career Development Event. He serves the National FFA Organization as an associate superintendent of the National FFA Nursery and Landscape Career Development Event.
Flanders is a member of the Georgia Agricultural Education Hall of Fame. He has received the national Outstanding Faculty Advisor Award from the Professional Fraternity Association. He has also received the Outstanding Faculty Member in Agricultural Education Award and the Outstanding Service and Faculty Member award from UGA's Student Government Association. He is a recipient of the UGA Outstanding Undergraduate Academic Advisor Award for 2014.
On class evaluations, Flanders is consistently rated highly on his availability and willingness to help students outside the classroom and during academic advisement. These students benefit from his years of experience in agriculture as well as education.
Nelson receives Administrative/Professional Award of Excellence
Brice Nelson graduated from the University of Georgia College of Agricultural and Environmental Sciences with a major in animal science.
After graduation, Nelson served as an agricultural specialist at the university's Wilkins Beef Cattle Research Unit in Rayle, where he oversaw the production and management for the university's purebred Angus herd.
He currently serves as the director of student and employer engagement for CAES. In this capacity, Nelson works to provide academic and campus information to potential students and parents. He is also involved in engaging and connecting employers with CAES students for career and internship opportunities.
In addition to overseeing the CAES Ambassador program for students serving the college in the areas of public relations and student recruitment, Nelson also acts as an advisor to AGHON and Ag Hill Council. Additionally, he helps maintain website information, promotional materials and social media messages, and interacts with alumni, potential students, parents and college stakeholders on a daily basis.
Nelson is a graduate of the Georgia Agri-Leaders Forum and has served as chairperson of the CAES Staff Representative Group and as troop committee chair for Boy Scout Troop 149. He is a member of Alpha Gamma Rho fraternity and, in 2010, was recognized by the National Agricultural Alumni Development and Alumni Association with the Professional Achievement Award.
Nelson, his wife, Andra, and son, Clark, live in Watkinsville.
Jay Bauer wins Technical Award of Excellence
Jay Bauer has built an unusual skill set based on a wide variety of work experiences. Bauer has been an auto mechanic, electrician, sign painter, copywriter, jewelry designer, voice-over announcer, heavy equipment welder, high school teacher and club bouncer. After earning a bachelor's degree from the Art Academy of Cincinnati in 1989, he relocated to Seattle, where he became lead manual illustrator for Walter Dorwin Teague and Associates, working exclusively for the Boeing Company.
Bauer offers Office of Communications and Creative Services clients unconventional communication alternatives beyond printed page or computer monitor, including fanciful kitchens as cockroach environments, portable mini-golf courses and three-dimensional, magnetic bee puzzles. His best-known contribution to the college identity effort is Caesar, the bulldog character that is a registered trademark of the college. Bauer has produced every iteration of the venerable, one-toothed dog, from the stubby cartoon character used in CAES print materials 13 years ago to the most recent incarnation—a larger-than-life mascot who appears at college events.
Most recently, Bauer designed and constructed an exhibit celebrating the centennial anniversary of Extension. Erected on-site in the rotunda of UGA's Special Collections Library, it featured a 43-foot-long display case containing objects of historical interest.
In his off hours, Bauer enjoys painting, sculpting and building furniture on commission in his Hoschton workshop. His personal work can be viewed at grumpyhoosier.com. He shares domestic space with the lovely and talented Katherine Holt, two large, shaggy dogs and a fat, black cat.
CJ O'Mara earns Skilled Trades Award of Excellence
C.J. O'Mara was born in Buffalo, New York, and raised in West Palm Beach, Florida. While he was not raised around agriculture as a child, he worked on a corn farm in Georgia as a teenager. He decided to attend Abraham Baldwin Agricultural College and to major in animal science and livestock health, then to attend the University of Georgia, graduating with an animal and dairy science degree. After graduation he worked at a farm with purebred Angus cattle before starting work at the J. Phil Campbell Sr. Research and Education Center in 2006, managing the cattle herd. He married his wife, Nicole, in 2005 and they welcomed their sons, Connor, in 2008 and Ayden, in 2011. They currently live in Colbert.
Brooke Powell earns Skilled Trades Award of Excellence
A lifelong resident of Watkinsville, Brooke Powell graduated from Oconee County High School, and then from the University of Georgia with an agribusiness degree. Her parents own a barn where they board horses, and her great-uncle owns a Christmas tree farm—she fills in at both of these businesses at varying times throughout the year. She enjoys running and competing in triathlons. She loves to work inside and outside, and her position as agricultural specialist provides the perfect combination of both. She started working at the J. Phil Campbell Sr. Research and Education Center in 2007 and took a full-time position in 2009.
Entomology Award
University of Georgia entomologist Nancy Hinkle has built a career as a well-respected veterinary entomologist, but it's her work with invisible insects that gained her notoriety outside academia. This fall the Entomological Society of America presented Hinkle with its 2014 Recognition Award in Urban Entomology for her work studying insects that are considered pests in the human environment — including pests that are sometimes imagined.
News Release: UGA entomologist's pioneering work with "invisible bugs" wins her national recognition
Publications Update
The UGA Extension publications office has announced its new staff — Andrea Gonzalez, managing editor, and Megan McCoy, publications graphic designer.
As a reminder, we also have a new publications website. Make sure you've updated your links and bookmarks: http://extension.uga.edu/publications.

See new publication titles, most requested pubs and Web stats.
Healthy Work/Life Balance
The College of Agricultural and Environmental Sciences recognizes the importance of maintaining a healthy work-life balance. When balance is achieved, both your personal and work life will benefit. All members of the College are encouraged to seek and live out their own personal balance and to engage in activities that promote mental and physical health. The College's administration is committed to working collaboratively to ensure that these policies and programs are used as effectively as possible, and to encourage a healthy work-life balance for every member of our faculty and staff. Visit the Work-Life Balance web page.
CAES featured prominently at this year's Sunbelt Expo
"The Sunbelt Expo is a great reminder that no industry is more important to the state of Georgia than agriculture," said UGA President Jere Morehead. "This event also reminds us of the significant role UGA, as the state's land-grant university, must continue to play in supporting this critical area of Georgia's economy. I was pleased to see on display the many strong partnerships that exist between our institution and key leaders and groups in the agriculture industry." Read the Sunbelt Expo news article.